Welcome to what I think is one of the most anticipated releases for the Wii to date. Drivekey for the Wii. We were fortunate enough for the Drivekey Team to send us a sample of the Drivekey for review. Let me just say, I am very impressed. All the features of a soldered in modchip, but without the soldering. I'll get started by listing the features of the Drivekey:
DriveKey Feature List
* Works on all Wii drives (DMS, D2A, D2B, D2C, D2C-2, D2E, D3/d2nothing)
* Works on all Wii regions (USA, JAP, PAL, KOREA)
* Fully configurable via on-chip config menu. Just go to disc channel and press eject 3 times to load!
* Compatible with D2B "cut pin" drives
* Compatible with D2E "epoxy" drives (no need to remove epoxy)
* FPGA fully updatable via JTAG external programmer
* JTAG software automatically downloads individually signed updates from DriveKey server
* SPI fully updatable via DVD
* Plug-and-play 2 minute installation
* No soldering necessary
* No external PC/laptop needed
* Direct Boot of Wii original, import, and backup (copied) games
* Direct Boot of Gamecube* original, import, and backup (copied) games
* Supports multi-disc games
* Supports dual-layer discs
* Fully configurable update blocker
* Fully configurable region override
* Enable/Disable DriveKey via the config menu
* Config option to autoboot Wii discs (insert the disc, the game will load immediately!)
* Transparent stealth operation
* Integrates proven D2CKey Intelligent Code Modifying System
* No awkward USB interface - just insert DVD and play!
* Supports, SMG, SSBB and other 'problem' titles
* Ultra-low power consumption; does not interfere with normal Wii operation
* Streaming audio in Gamecube games is not supported
The Drivekey came to us well packed in a Fedex cardboard mailer.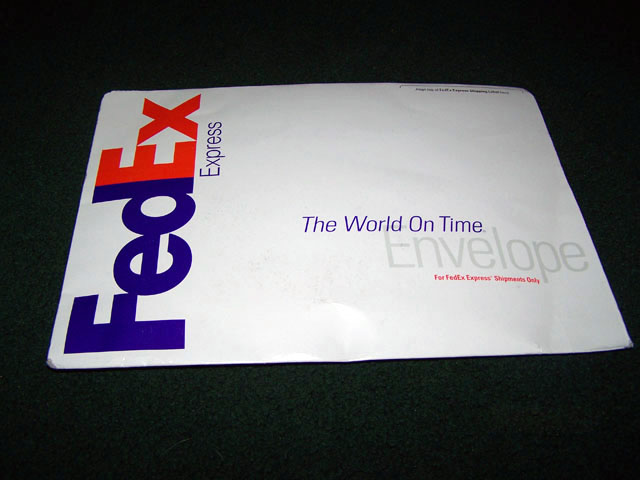 Now we can see some of the contents
The Drivekey, ribbon cables, and stickers. The long thin ribbon cable is for Jtag programming.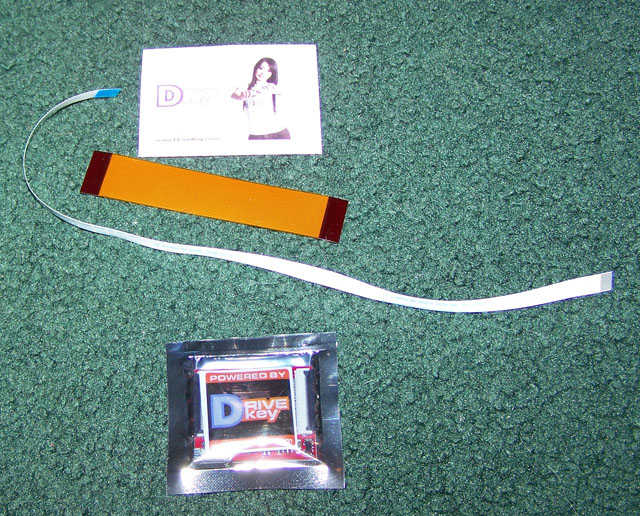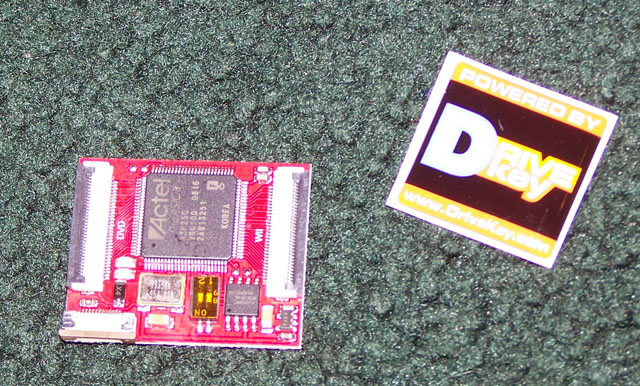 Now we get into the meat and potatoes of everything. After unpacking everything, I tore down a Wii and took the four screws out of it so I could turn it over. There is a ribbon cable that attaches the drive to the motherboard. This is what it looks like.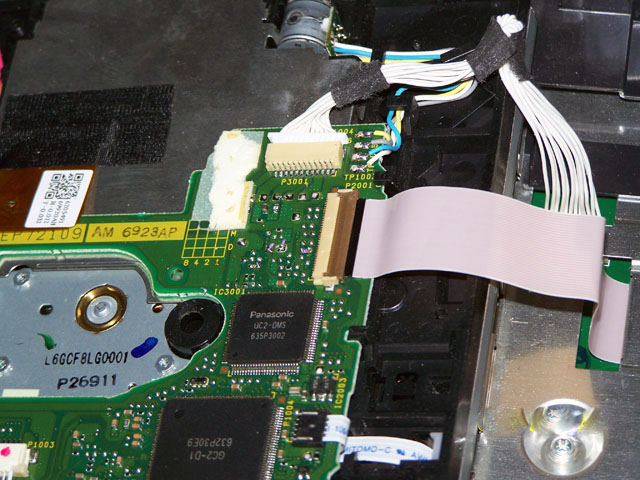 Installation couldn't be easier. First, set your region using the DIP switches. Refer to drivekey.com for the proper settings for your Drivekey. Then lift the little bar that holds the ribbon cable to the drive and remove the ribbon cable. Take that ribbon cable and insert it into the Drivekey in the connector labeled Wii. Close the bar to complete this connection. Then take the ribbon cable that comes with the Drivekey and insert it into the connector labeled DVD and close the bar. Then insert the other end into the connector on the DVD drive and close the bar. Thats pretty much it for installation. This is what it looks like after installation.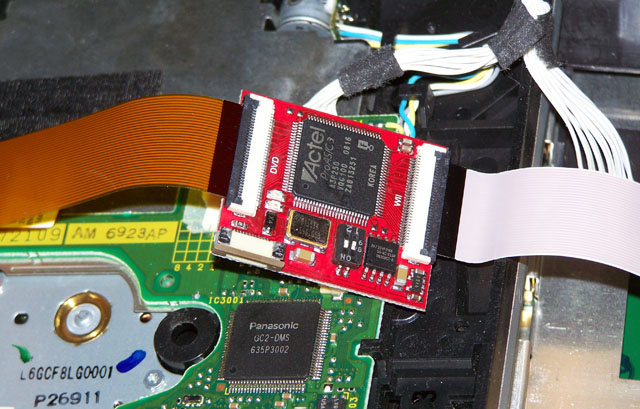 At this point, you'll want to test it out to make sure all the cables are connected up properly. While the Wii is apart, you'll know if your backup is going to work. There is a blue light that flickers on the Drivekey as data is read from the disk. If your backup doesn't work, take the cables loose and re-connect them. Make sure they are getting fully seated into their proper connectors. Once you verify everything working properly, you need to insulate the drivekey and fold everything under the drive and re-assemble the Wii.
Once you've got it all back together, fire up your Wii. Now you can adjust any settings that you might want to change. To get to the settings menu, press the eject button three times in quick succession (If your wii is still apart, a red light will come on the Drivekey). In the disk channel, you'll see the game cube logo show up. When you run it, you'll get the following menu.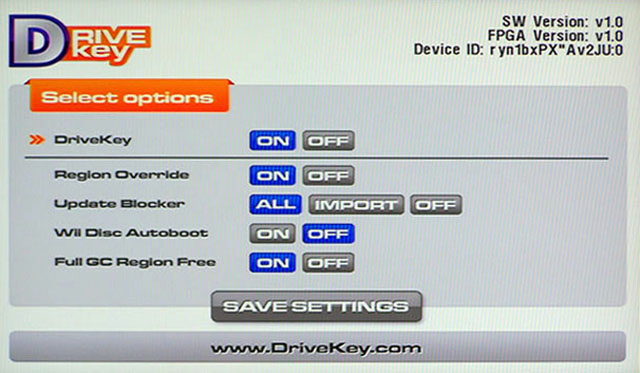 Navigation is pretty simple, although a Game Cube controller would not work here. You can use the reset or the eject button to go from setting to setting and to change a setting, hold the reset button for about 2 seconds or so and it will change the setting. Then just go to the save settings button and save your changes. Then when it tells you to, reboot your Wii.
The Drivekey is comprised of two flash chips. One is DVD upgradable and is the one that will be updated most often. The other is only upgradable by Jtag and probably won't have to be updated very often.
Performance is very good. I threw every backup I had at this device and it never once faltered. In most cases, it out performed the Wasabi chip that was removed from the test Wii so it could be installed in it. The simplicity of this device is amazing. No more clips to achieve a no solder solution. No more soldering. It works on all drives and all regions of Wii's, is upgradable by DVD and Jtag and is very, very simple to install. The hardest part is keeping up with all the screws that comes out of a Wii.
This product gets a full 10 out 0f 10 even if it is a little pricey. In my opinion, it's worth the price for the convenience of a hard mod that doesn't require soldering, works with all the games with no compatibility issues. You can see a complete list of resellers by going to the Drivekwy website or by clicking->
http://www.drivekey.com/get-it-now/
Now, go get one and let it drive your wii to it's fullest potential!